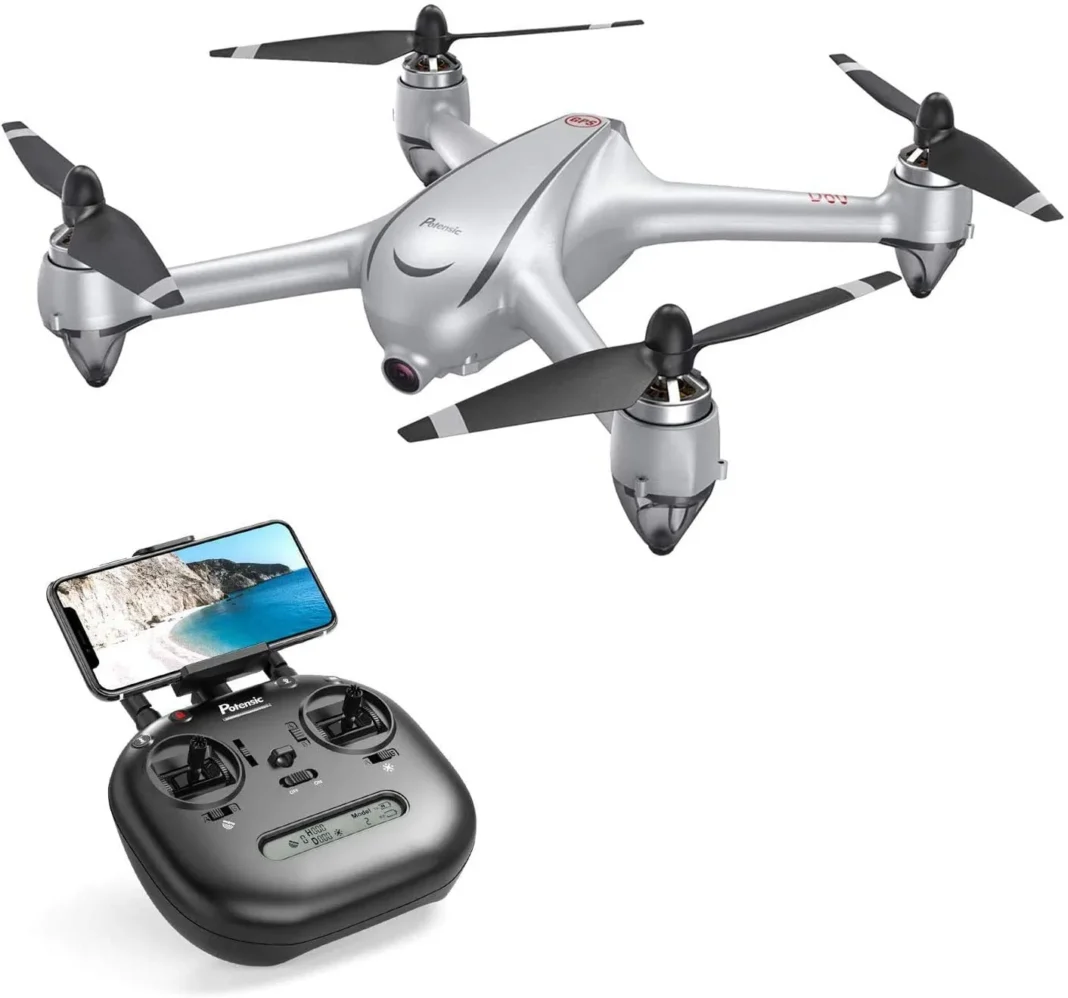 The drone is a thing from the future that anyone can use today. Go to the nearest gadget shop and you can buy one. In fact, you can buy a drone from the toy section in a supermarket. But when it comes to more advanced uses – such as aerial photography, you want a quality item without spending a fortune on it.
So, what is the best drone under $200 with a camera? You want quality controls, videos and pictures, and bells and whistles. This is when our Potensic D80 review comes in to brighten your day.
Pros & Cons of Potensic D80
Pros
Automatic return options
Long flying times
Great flying range
Powerful motor
Signal alerts
Cons
It does not tilt unless you speed it and grab a picture really fast
Extra batteries must be purchased separately
​
Features Of Potensic D80
1. Quality Camera
The camera is a must in such a gadget and Potensic has done a brilliant job with the D80. Basically, you have an HD 1080P camera that will take videos looking better than the films you see on TV – smooth video capabilities, instant pictures, and great views. Even when you take a video, the camera will be stable as the drone flies at high speeds, making your videos smooth and clear.
It comes with a 5G wireless transmission. In other words, you see exactly what the camera sees. There is no guesswork involved. You find a good angle – shoot it and you get the picture. Simple as that.
2. Transmission Range
The range is not to be overlooked either. If your drone can be controlled for over 50 years, the best you could do would be to take selfies from 50 yards away. Literally. Fortunately, this model pushes the range to a professional limit. You can control Potensic D80 over around 328 yards. It is a long distance that allows beautiful aerial photography, including an amazing height. The range is the same regardless of whether you fly it long distance or long altitude, giving you more control over your photography experience.
3. FPV Transmission
FPV transmission is quickly becoming a standard in this industry. However, despite its critical importance, some cameras in this segment still did not implement it. The FPV transmission lets you see what the camera sees on a screen. Without it, you would have to take pictures and videos by guessing the right moment. You could also take dozens of pictures and select the right ones after – quite inconvenient.
When you can see what the camera captures, you can press the button at the right time. The feature is even better when shooting videos. All in all, the 5G transmission is instant – no delays or lags. Given the camera capabilities, it is also clear.
4. Flying Time
Most drones in this category will fly for 10 to 15 minutes. Potensic D80 is probably the best drone under 200, not just because of the camera but also because of its flying time. It can fly for up to 20 minutes. The modular battery will drain slower or faster, depending on how you use the drone. If you move it continuously, it will go faster. If you fly it up and start taking pictures by turning it around only, it will most likely exceed the average flying time.
The battery is removable. Getting an extra one will give you more time. Basically, it is all about how many batteries you can get.
5. Alarms and Alerts
Worried that you might lose the drone if it runs out of power and you have no idea where it is? What about having it out of range? Luckily, Potensic has brought in some safety features. Your transmitter will beep in any of these situations. When the battery goes low, you will be notified about it. The same rule applies when the drone is about to get out of range.
6. Automatic Return
The lack of experience might make you nervous. What if you lose the drone? What if you accidentally fly it out of range? There is nothing to worry about, as the automatic return function will bring it back to the original take-off point. You can call it back whenever you want or it will do it automatically when about to lose power or range.
7. Brushless Motor
The brushless motor represents a technology gaining more and more popularity lately. Not only is it more powerful, but it is also quieter and requires less power from the battery. Given its capabilities, you can also fly the drone during cold winter days.
Key Specifications
Measures 16.8×11.6×5.4 inches
Four brushless motors
7.4V 1800mAh battery
20 minutes of flying time
Dual GPS mode
No signal return
Low power return
Up to 875-yard range without interferences – 650 yards on average
328-yard transmission range
Real-time FPV transmission
1080p HD camera
25MPH speed
Signal alerts for low power or range
What Makes Potensic D80 Such a Good Option?
Potensic D80 is suitable for everyone. It is a great choice for beginners with all the automatic features – such as the return or alarms, but it is also excellent for experienced users who want extra convenience. If you count all the features and check the price, it offers great value for money, making it the best affordable drone with a camera. The learning curve is small in case this is your first drone. If you have flown others before, you will notice a smooth operation and extremely precise control.
Conclusion
As a short final conclusion, it is no surprise why Potensic D80 is so well rated – 4.4 out of 5 stars. Based on reviews and its reputation, over 87% of all buyers find it to be excellent or almost there. It makes the best drone under $200 due to a series of high-end features and a convenient price for the whole package.