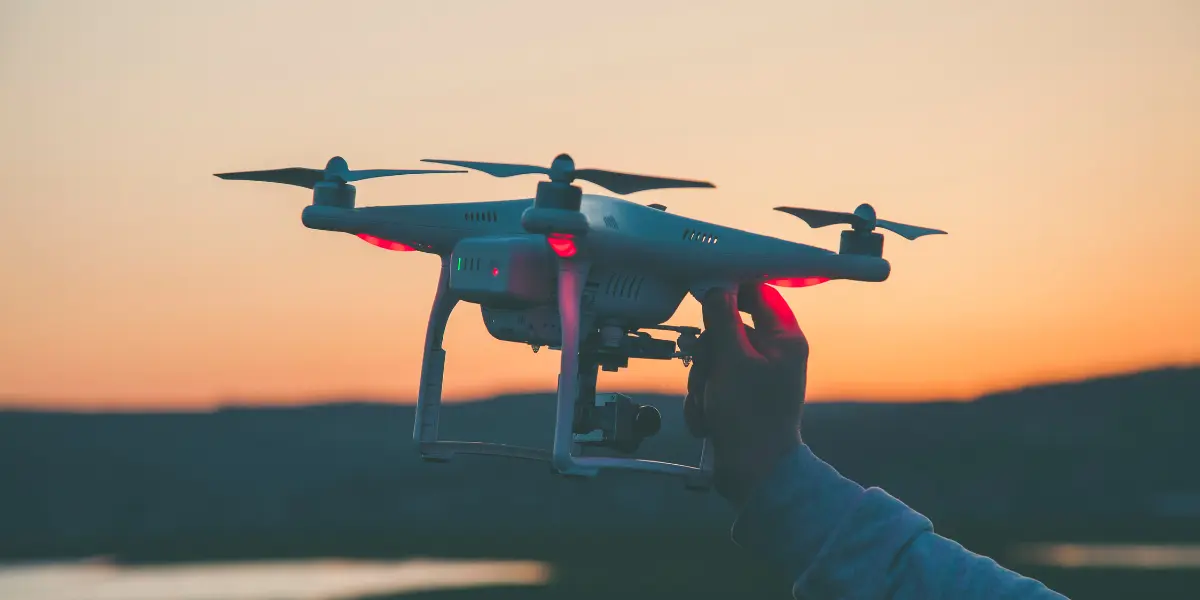 While drones used to be primarily available to the military and professional journalists a decade ago, now you can buy them from any store. Given the market diversity, choosing the best drones under $200 with a camera can be challenging.
There are countless applications where you can use a drone. Furthermore, it comes in all kinds of sizes. You can find small models for kids that barely go 50 feet in the air and more professional units that reach 300 feet in height.
Plenty of models, while features and functions vary from product to product. Before digging into more in-depth details, let's discuss what you can do with it.
What can you do with Camera Drones?
Searching for the best budget drone is pointless if you don't know what to do with it. So, first, let's discuss what you can do with it.
Aerial Photography
Aerial photography is exquisite – beautiful landscapes and cities shot from above. Even something basic, like your neighborhood, will look good in a picture taken by a drone.
When you go on holiday, explaining what kind of memories aerial photos can bring back is pointless. Videos are just as handy, whether you are moving or just trying to capture the surroundings.
For example, some can follow a particular subject – such as you riding a horse or your brand new car. Is there anything looking better than that?
Advertising
No matter how small or large your business is, they are still not as common as you might expect them to be. Therefore, everyone will point at it whenever it goes around a crowd.
How about spreading some fliers over a crowd? How about moving your drone around with a big banner hanging down? What kind of exposure is better than this one? Make sure you follow the local laws and regulations, as there is always the risk of getting someone injured.
Agriculture
You do not need to be a professional agriculturist to rely on them. Having your field or garden for personal use will also benefit from it.
Aerial monitoring will provide you with a more in-depth analysis of how your land is doing. You can check out how healthy your crops are.
Even if you want to spray your trees, doing it with a drone is much easier than climbing on top or using hoses.
7 Best Drones Under $200 with Camera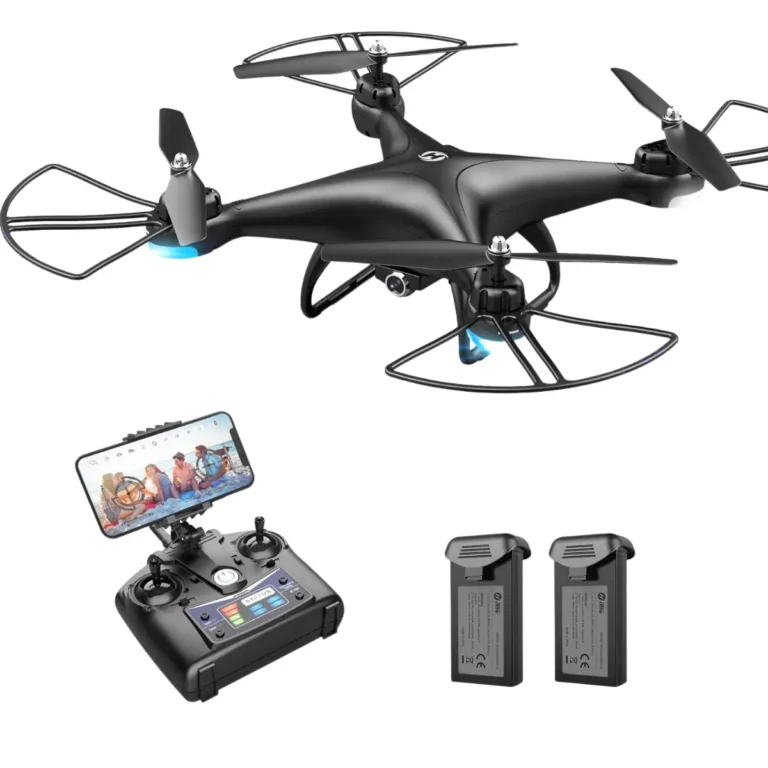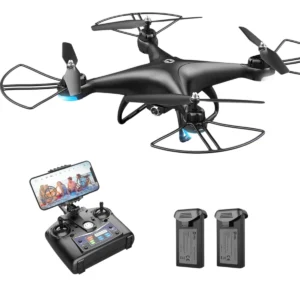 The Holy Stone HS110D model could be considered one of the best beginner drones if you want as many features as possible within this range.
It has solid qualities to help beginners get used to such things. For instance, the altitude hold setting is a must. This way, it will keep working even if you do not hold the controller.
You also have one button to start and land the unit. You can unlock it using the same button. This capability makes the team more approachable to beginners who do not need to get overwhelmed with all those functions.
Not only do you see what you capture right away, but you can also prevent mistakes and retaking shots.
To make things even more exciting, it allows wearing VR glasses for a more intense experience. Moreover, Holy Stone HS110D has a 1080p HD camera. This drone could not miss the opportunity to introduce you to a new world of entertainment.
Enter the app, select the 3D mode, and slide the smartphone into the headset. You will fly it in first-person view mode, so it feels like you are in the air.
The camera quality is good enough to support high-quality video and provide. The app has multiple features worth a try. The gravity sensor mode is just as attractive.
Pros
Complete package with the fully-featured application
Good picture and video quality
Works with both Android and iOS
Cons
The camera angle is not adjustable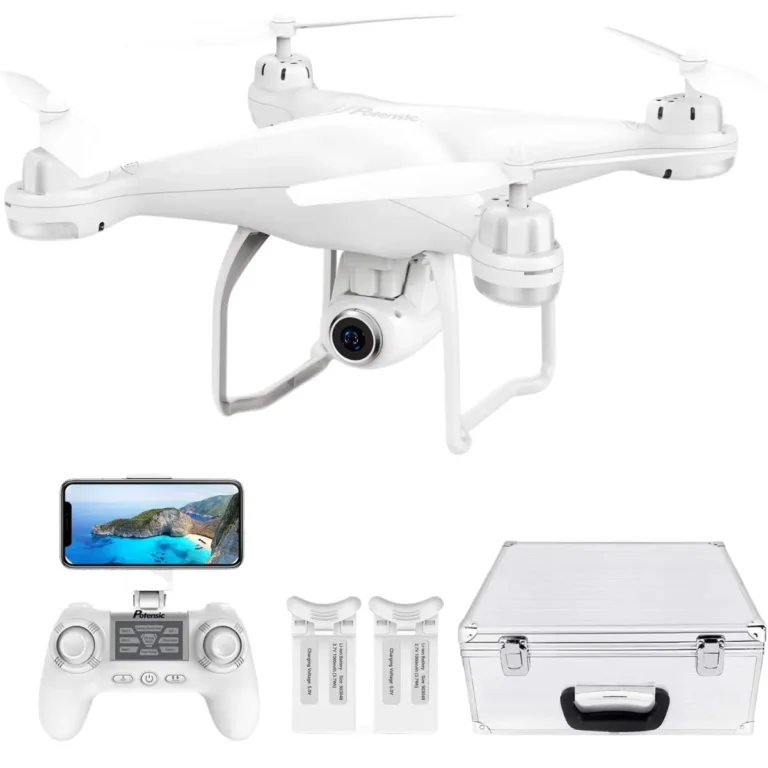 Known for its impressive value for money, Potensic T25 is the best 1080p drone that will impress you with its fully-featured profile.
Connectivity with your smartphone is flawless. Not only will you admire the surroundings, but you will also take pictures at the right moment and have more control over your videos.
Whether you are new or find it hard to hold the altitude at the same level, the drone comes with an altitude hold mode. First, take it to the desired air height, then lock it.
You can also lock the location so it does not go around. The hover is also stable, while shooting from various angles has never been easier. The good news is that rotating it for a wider-angle video will not affect the quality.
It will not shake or tremble but move smoothly for a perfect video experience. Starting, moving, and landing is a piece of cake. Taking off implies using one button only.
Even if you have no experience, you will get used to it from the first attempt. The same rule applies for landing – no need to hold or catch it. The unit also comes with a proper key return feature.
You can order it to return to the same spot without slowing the movement. The function is even better when you lose sight of it and panic about losing it.
Drone Features
Image stabilization with real-time transmission
One Button Auto Return
Follow me mode
T25 2x Battery Combo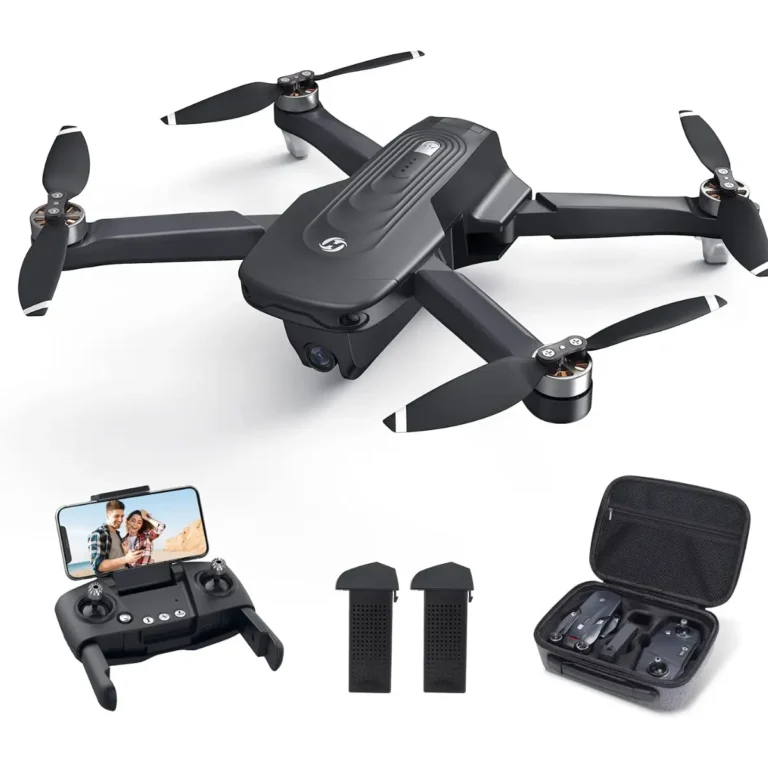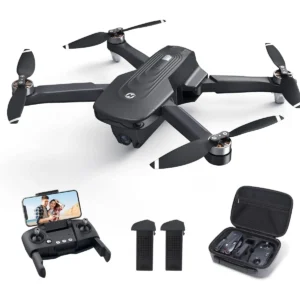 If you are looking for the best drone under $200 with a 4k camera, the Holy Stone HS175D is all you need. This high-performance quadcopter is made for adults and has a wide range of advanced features for capturing stunning aerial footage and exploring the sky.
It has a 110° wide-angle lens and a 90° adjustable angle, so it's easy to take high-resolution pictures and videos.
The HS175D also has Auto Return technology, which lets it go home automatically if it loses its signal, goes out of range, or runs out of power. This gives you peace of mind while you're flying a drone.
With two batteries, this can fly for up to 46 minutes. It also has many easy-to-use features, like Altitude Hold, Optical Flow, One Key Take Off/Landing, and Speed Adjust, making it great for beginners or people just starting.
It also includes the ability to automatically track and follow you, fly along a path you set or in circles around a point, and take a picture or video when you pose, making for a fun flight.
Pros
4K Ultra Clear Camera
Flight time is up to 46 minutes.
Weight below 250g to keep from having to register with the FAA.
Cons
Even when the remote is close to it, it often loses connection.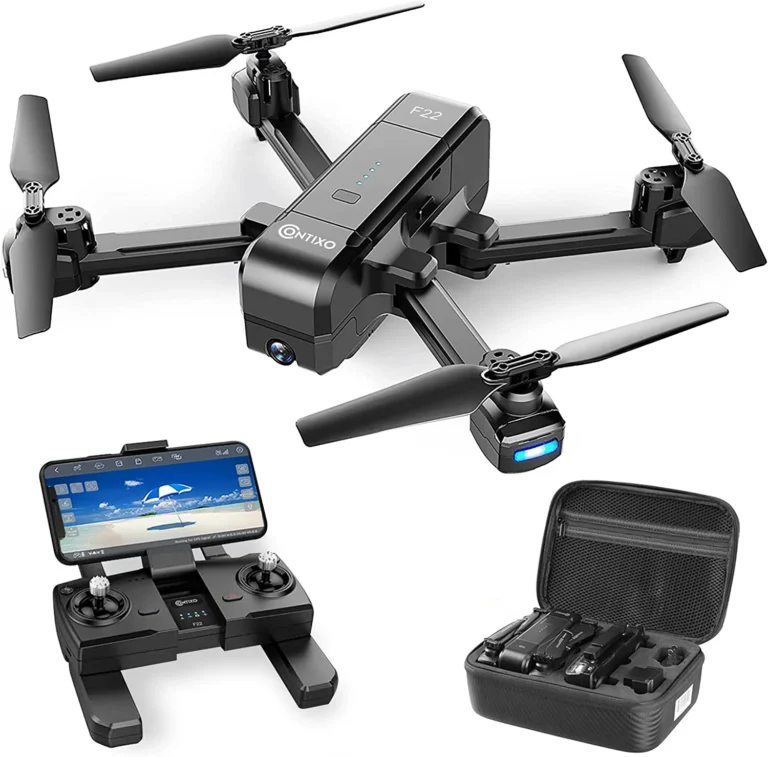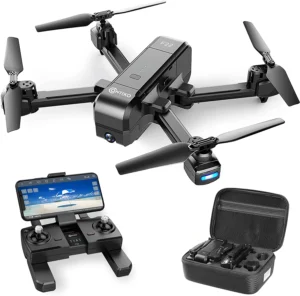 The Contixo F22 is a high-performance drone with various high-tech components that can be bought reasonably. The F22 has a 1080P that lets you take and record stunning photos and videos.
It also has a 6-axis gyroscopic stabilization system that ensures it can fly smoothly and steadily even when there is a lot of wind. The F22 has a range of 500 meters, which makes it great for exploring large areas.
The drone also has several smart flight modes, such as "Follow Me," which lets you focus on getting the perfect shot while it follows your movements.
The F22 also has a mode called "Headless," which makes it easy to handle the direction even when you can't see it.
The F22 is also easy to operate, thanks to its easy-to-use remote and the user manual that comes with it. The charging can last up to 15 minutes, with plenty of time to get all the necessary footage.
Pros
1080p HD camera
6-axis gyro stabilization system
Intelligent flight
Long flight time of up to 15 minutes
Control range of up to 500 meters
Cons
Some users have reported connectivity issues with the remote control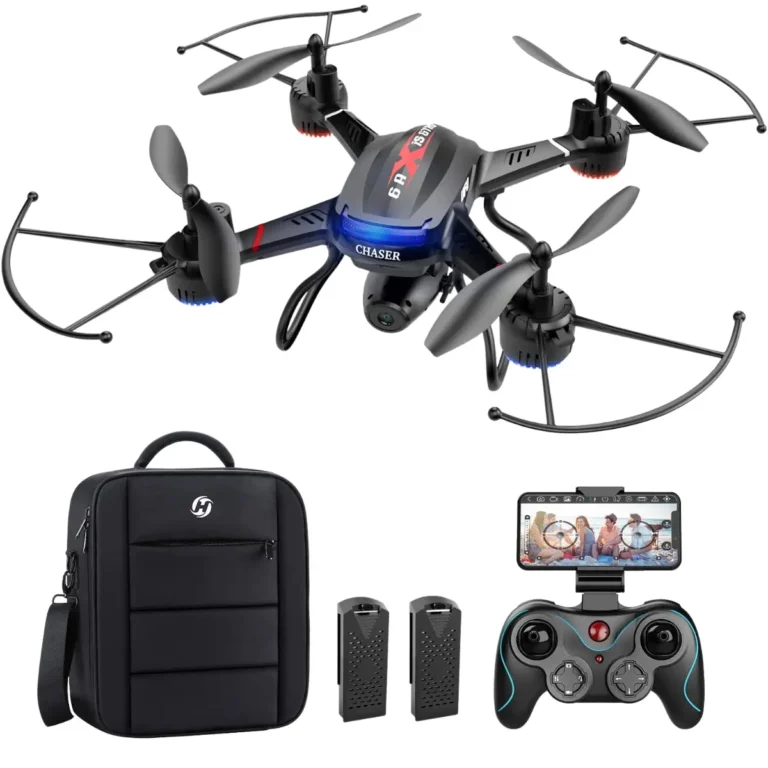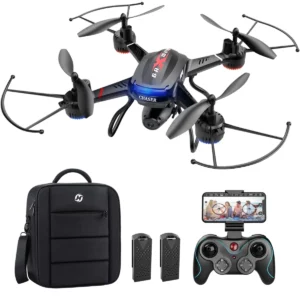 Holy Stone drones are a front-runner regarding value for money, and the Holy Stone F181W model might be the best if you are up for bells and whistles at a great price.
This camera drone is 720P and comes with a classic 120-degree wide-angle capability. It can shoot in HD, and it features WiFi connectivity. Everything is transmitted wirelessly to your smartphone.
You will need to install the associated application first. The headless mode gives you even more balance, as you do not have to figure out which part is the front and which is the back. If it gets close to losing signal, you call it back rather than send it even further by mistake.
3D flips are just as attractive. They are possible due to a new technology of six-axis control systems. Are you worried about losing it? Is it out of sight? Keep calm and press the return home button. You only need one key to send it back to the transmitter. Press the button, and it will detect the transmitter and fly down to it.
You can successfully keep it at a steady height when in the air with the automatic altitude hold function. The air pressure is more potent than in other similar units.
You can release the throttle stick, and the drone will hang out at the same height. You could take pictures, but this feature also helps shoot smooth videos.
Pros
Altitude hold function for extra smoothness
3D flips while in the air without losing its balance or altitude
Longer flight duration due to the double batteries
Cons
Some parts must be assembled upfront
The manual of instructions is not perfectly understandable.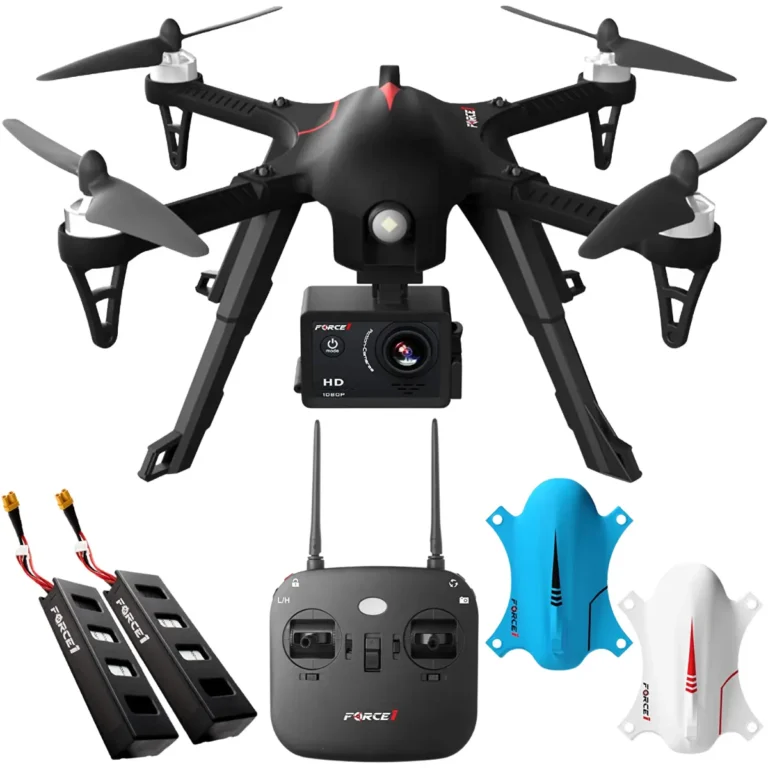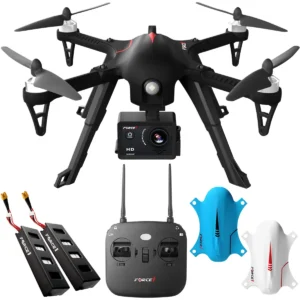 With a complete package and a few high-end features, this model from Force1 might be the best drone under $200 with GPS. After all, it is more common in more sophisticated products. The product can be used out of the box. You get everything you need, including a balance charger, extra propellers, a screwdriver, and a propeller replacement tool. It comes with an altitude-holding feature, which allows smooth videos and the possibility to operate without worrying that it might drop if you release the throttle button.
Taking off and landing will never raise problems – you can do it with one key. The headless mode for stability and safety could not miss either. It is referred to as an intelligent orientation control system.
The motor is superior to what you can find in this range. It includes advanced brushless technology. Besides being more durable, it boasts more power over a shorter period, making it more efficient than its competition.
Despite sounding too advanced for beginners, it is still an excellent choice for those without experience. In terms of safely returning, you have three different functions. One is suitable for low-power emergencies, while the other is for low-signal issues. You can also call it back for no reason – use the primary return key, which will come back to you.
This camera drone is superior to other similar units from all points of view. While many products come with a 720P, this drone has a full 1080P. Its clarity is flawless, but this is not everything. The smooth controls will allow a perfect video experience. Pictures will be highly detailed too. To make sure you see it under poor lighting conditions, Force1 has fitted a set of lights so you are less likely to lose it.
Pros
Full-capability 1080P camera
Multiple return functions – one key only
Fitted with lights to prevent losing it
Powerful brushless motor
Cons
Calibrating the controller might be a bit confusing.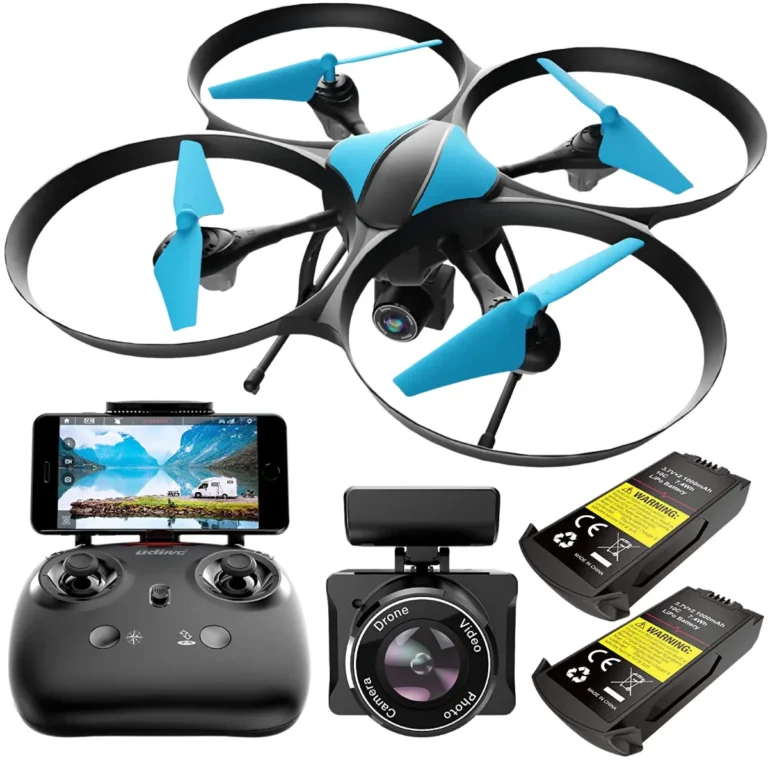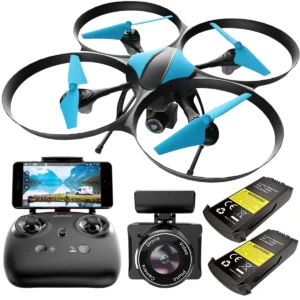 Force1 does not fool around regarding quality. The best part about it is that the price is still highly competitive. All in all, you can see what a bird sees in great clarity due to the 720P camera this drone is fitted with. You can take pictures from the ground and shoot smooth videos to see everything in real-time.
The unit is suitable for children, newbie adults, and experienced users. High-end features make a difference. You have not one or two, but three different speeds. You only need one key to take off and one to land – no need to hold or attempt to catch it. There are also a set of alarms for low signal, range, or power. Warning signs will tell you when to call it back and avoid losing it.
The remote control allows holding the altitude so that you can release the throttle button. You also have the headless mode, which you could not miss from such an advanced drone – no need for guesswork regarding directions.
Given the extra powerful batteries, this can fly for longer than other similar units – up to 25 minutes, yet it depends on the tricks you perform and how much you work it out. Every Force1 drone comes with an extra battery, and this one makes no exception either.
When the main one is almost drained, put the other in and continue your activities. The HD FPV camera live video streaming capability is possible due to the wireless connectivity and lets you choose the perfect moment for pictures and videos.
Pros
Long flying times of up to 25 minutes
Extra batteries
Easy one key controls
Cons
Buyer's Guide
Now we're done talking about the seven best drones under $200. It's time to discuss certain things you must look for when investing in them.
Drone Types
There are four primary types.
Beginner drones are basic and affordable. They are also durable and can take some beating.
Hobby drones have extra benefits, such as a targeted focus on the subject and even technical needs.
Professional drones are equipped with higher-quality cameras but may also have GPS features for an easy return home and other similar functions.
Finally, racing drones are designed with speed in mind. They are targeted at a specific category of buyers – speed enthusiasts. Besides being used in races, they can also chase and take videos of fast-moving objects like cars.
Flight Time
Flight time is one of the top features to look for in a drone. Recharging them in the middle of the action can ruin the experience. Some can fly for five minutes, while others can go out for an hour.
A beginner will most likely do it for 10 minutes. Extra batteries might be the key, as you can change them and return them to your project. At this point, the flight time depends on how many full batteries you can have on you.
Range
The range depends on what you need to use the drone for. Some can go away for 50 yards, while long-range drones can reach 120+ yards. The most expensive one may exceed the 8 to 10km range. If you are a journalist going to war zones for footage, you might need a long-range.
Camera
If it is the primary reason you want a drone, camera specifications might be the only factor to consider. If you want to fly your drone for fun, leave the camera on the ground for more battery life. But if you want pictures and videos, double-check the specifications.
Headless Mode
Headless flight modes imply the drone turning in whatever direction you ask it to. You ask for left; it goes left. Without this mode, they need to be facing the other direction. If it meets you, your left will be the drone's right.
It can be confusing in the air because the back looks like the front, so you have no idea which way it is facing. This also makes handling more accessible, as no thinking is involved.
Frequently Asked Questions
Q: What can you do with a drone?
A: Drones can be used for farming, advertising, and taking pictures from above. You can also use them to take high-quality photos and videos from the air.
Q: What are the benefits of taking pictures from the air with a drone?
A: Using a drone for aerial photography lets you capture beautiful landscapes and cities from above, take videos and photos of your surroundings, and follow a specific subject, like a person or a vehicle.
Q: What are the most important things to look for in the best drones under $200?
A: If you want a camera-equipped drone that costs less than $200, look for features like altitude hold, one-button takeoff and landing, VR compatibility, and a good camera. You should also consider how stable the hover is and how easy it is to control the video and images.
Conclusion
The bottom line is that finding the best drones under $200 with a camera is a different concept for everyone. The cheap drones that work for some people might not always work for you. Think about what you need it for and decide with the right features in mind.